Djembe Buying Guide: Part 8, Tuning Your Djembe
Learn how to tune your rope tuned djembe. In this lesson you will get step by step instructions on how to create diamonds with the extra rope on your drum in order to tighten the drum head. Understand what a tuned djembe should sound like and get advanced instructions on how to create a second row of diamonds for drums that need extra tightening. Lastly you will learn how to wrap the extra rope around your drum once you finish tuning. Instruction by Kenya Masala.
Features
Understand the difference between a tuned drum and an out of tune drum
Slow motion, close-up views on how to make a diamond
How to avoid rope burns on your drum
How a drum stick can make the tuning much easier
Over the shoulder views
When one row of diamonds is not enough, learn how to start a second row
Know when to stop tuning your drum
How weather can affect your drum
What to do with the extra rope when you are done tuning
---------------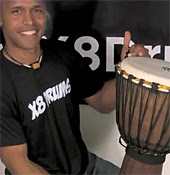 This video is instructed by Kenya Masala.
Sharing his love of rhythm and drumming within corporations, classrooms and communities, Kenya Masala is a recognized and respected trainer and facilitator across the country. Masala's original Rhythm Play!™ activity book and Zaboomba drumming programs introduce activities that integrate music within classroom and team development environments, and are accessible to teachers, educators and facilitators through easy-to-teach lessons that are adaptable to the ages and abilities of students and participants.
Djembe Buying Guide
2. Djembe Wood Source & Lathing [Video]
3. Djembe Shell Carving & Painting [Video]
5. Which Size Djembe is Right for Me? [Video]
6. Key Tuned vs. Rope Tuned Djembe
7. Djembe Drum: Wood vs. Synthetic
8. How to Tune a Djembe [Video]
10. A Note About African Djembes
11. Djembe Rhythm Exercises [Video]
12. Djembe Rope. Why Quality Matters.
13. Taking Care of your Djembe
15. How to Play the Djembe [Video]
16. Play the Djembe is Easy for All!
Recent Posts
Before we roll out the new releases this week, we want to congratulate the winner of our free dje …

Before we roll out the new releases this week, we want to congratulate the winner of our free dje …

Before we roll out the new releases this week, we want to congratulate the winner of our free dje …