X8 Djembes
X8 Drums offers professional hand carved wooden shell djembe drums that are manufactured using legally certified timber that is environmentally sustainable.
Working closely with their overseas partners, X8 Drums imports the finest selection of beautifully handcrafted African djembe drums and accessories. The selection is diverse enough to appease beginners through professionals and everyone in between.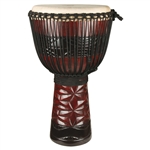 The brand takes great pride in educating consumers on how their buying decision can help to protect our world's forests, assist in preserving and maintaining a well-balanced eco-system and help support local economies.
Since X8 Drums djembes are imported directly, all middle-man costs are eliminated which means you can get an incredible djembe at wholesale prices.
---
Toca Djembes
Started by Kaman Music, the Toca brand is extremely well known for producing high quality African and more ethnic based djembe drums known as their Synergy line.
Toca Percussion produces both wooden djembes and more modern PVC constructed shells offering both traditionally styled and decorative instruments that look as good as they sound.
---
Remo Djembes
A leader in the drumming industry, Remo has been making drumheads for more than 60 years. With 77 technology patent's, Remo drumheads are the world's most recorded drumheads and perhaps the most recognized name when it comes to all things drumming. Remo's World Percussion line of djembes are made with top-quality synthetic heads and synthetic shells known as 'Acousticon'. However please note, if you're looking for more traditionally based djembe drums with wooden shells and animal skin heads this brand it not for you.
---
Latin Percussion Djembes
Created of kiln-dried, environmentally friendly Siam oak and animal skin drumheads, Latin Percussion djembe drums are both traditional and modern. All Latin Percussion djembes use a mechanically based tuning system coupled with traditional wooden shells and hand selected animal skin drumheads. Latin Percussion has been producing their world percussion products for 40 years and has one of the most well respected and recognized names.
View All Latin Percussion Djembes
---
Tycoon Percussion Djembes
Tycoon has been making world percussion instruments for over 20 years and is one of the few companies that own their own factory located in Bangkok, Thailand, where most world percussion instruments are made.
They produce over 40,000 sets of percussion products per year including both rope-tuned and mechanically tuned wood djembes. Tycoon Percussion Instruments are renowned for their sleek, attractive appearance and durability. They only use the highest quality of raw materials, which, coupled with their skilled and experienced laborers, combine to produce djembes of the highest quality.
---
Mid-East Ethnic Instruments Djembes
As the name suggests, Mid-East is one of the largest importers of ethnic based world percussion products. Their djembe drums are typically imported from India, and Pakistan and are hand-carved using a single piece of rosewood with goatskin drumheads. Their djembes come in both rope-tuning and mechanically based tuning systems.
Mid-East Ethnic Instruments Djembes
X8 Drums Djembe Buying Guide
2. Djembe Wood Source & Lathing [Video]
3. Djembe Shell Carving & Painting [Video]
4. Compare Brands of Djembes
5. Which Size Djembe is Right for Me? [Video]
6. Key Tuned vs. Rope Tuned Djembe
7. Djembe Drum: Wood vs. Synthetic
8. How to Tune a Djembe [Video]
10. A Note About African Djembes
11. Djembe Rhythms and Exercises [Video]
12. Djembe Rope. Why Quality Matters.
13. Taking Care of your Djembe
15. How to Play the Djembe [Video]
16. Play the Djembe is Easy for All!
Recent Posts
Before we roll out the new releases this week, we want to congratulate the winner of our free dje …

Before we roll out the new releases this week, we want to congratulate the winner of our free dje …

Here's our top 10 list of gifts for the drummer on your list this holiday season. Each one has be …