Djembe Buying Guide: Part 5, Choosing the Right Size Djembe
One of the most common questions we hear from our customers is "Which Size Djembe is Right for Me?" In this video, you'll learn why selecting the correct size djembe is so important. You'll also view all of the various size drums for a clear understanding of the differences between the sizes. Instruction by Kenya Masala.
Starting with the smallest size; the 7" Djembe. This drum has a 7" diameter drum head and stands 12" tall. Typically when people talk about a djembe's size, they refer to the drum head diameter, so in this case it is the 7" djembe.
The 7" drum is great for small kids up to first grade.
When looking at the smaller drums, you'll see that an adult could indeed play it but there will be some discomfort and limitations in sound. what your after is a drum head size that the hands fit on comfortably.
Moving up in size to the 9" drum, this size is good for kids in first through fourth grade. The 9" drum measures approximately 16" tall. When testing this drum size, remember that what you are looking for is a drum that fits the hand and the ergonomics of your body so this will be a little small for an adult. However this size is used as a traveling drum (or backpacker djembe) for adults that are unable to carry their full size drum to an event.
The next size up is the 10" djembe. This drum is 20" tall. With this size, you'll see that we are approaching the size that would be appropriate for a smaller adult. What your after for it to be really comfortable is for the base of the drum to rest on the ground as you are in a seated position. If you can sit in a chair and have the base of the drum on the floor and then the head is just above your thighs, then this is the right size. In the video, Kenya mentions that he is 5'10" and the drum is too short for him to play comfortably in a seated position. He needs a taller drum.
The 12" djembe is the next size up and this size is the most common for adults. Notice in the video how the base of the drum can rest on the floor and the drum playing surface is just above his thighs. This is what you are after. When you have the right size drum you'll see how you can sit in a very relaxed position, your arm comes to a perfect angle when you put your hand in a playing position on the drum head and the drum head is large enough for you to play full notes using both hands.
For those that are over 6' tall or for players that like a bigger drum for louder sound and deeper bass, you'll want to step up to the 13-14" djembe size. This size drum stands 25-26" tall. You'll see in the video that this size is a bit too large for Kenya at 5'10" because the height inhibits the relaxed playing position for him.
You can use the chart below to review the drum head size and how they correlate to the drum height. Before you buy, we recommend that get a tape measure and sit in a chair. Once you are seated, measure the distance from the floor to about 3 inches above your thighs. Use this measurement to determine the correct drum height for you. Match that height to the drum head using the table below, then start shopping to select the style you like best!
| | |
| --- | --- |
| DJEMBE HEIGHT | HEAD SIZE |
| 12" | 7" |
| 15-16" | 8-9" |
| 20" | 10" |
| 24" | 12" |
| 25-26" | 13-14" |
---------------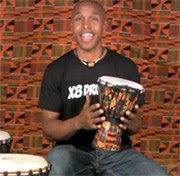 This video is instructed by Kenya Masala.
Sharing his love of rhythm and drumming within corporations, classrooms and communities, Kenya Masala is a recognized and respected trainer and facilitator across the country. Masala's original Rhythm Play!™ activity book and Zaboomba drumming programs introduce activities that integrate music within classroom and team development environments, and are accessible to teachers, educators and facilitators through easy-to-teach lessons that are adaptable to the ages and abilities of students and participants.
Djembe Buying Guide
2. Djembe Wood Source & Lathing [Video]
3. Djembe Shell Carving & Painting [Video]
5. Which Size Djembe is Right for Me? [Video]
6. Key Tuned vs. Rope Tuned Djembe
7. Djembe Drum: Wood vs. Synthetic
8. How to Tune a Djembe [Video]
10. A Note About African Djembes
11. Djembe Rhythm Exercises [Video]
12. Djembe Rope. Why Quality Matters.
13. Taking Care of your Djembe
15. How to Play the Djembe [Video]
16. Play the Djembe is Easy for All!
Recent Posts
Looking to learn a new rhythm for your Djembe? Have you tried the Fanga beat? Fanga is a Lib …

Many seeking their own hand drum or djembe have experienced the magic of drumming and drum circles. …

Roll into a retro vibe with a groovy Lava Lamp Djembe from X8 Drums. It has a unique d …