Schlagwerk 2inOne Black Edition Snare Cajon - Large
SKU:

CP404BLK

Availability:

Inventory availability is subject to change. Please contact us to confirm that this item is in stock.
Description
Watch Video Demonstration of this Cajon
No instrument has determined the Cajon design as much as the Original Schlagwerk CP 404 2inOne design. Now the cult Cajon model is also available in this darker playing surface - an outstanding visual alternative, but uncompromising in terms of sound and workmanship.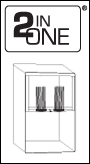 CP 404 BLK 2inOne Snare Cajon Black Edition
Playing surface: Beechwood
Resonance box: 8 layers of Birch
Dimensions: Approx. 12"W x 20"H x 12"D
The Schlagwerk 2inOne Cajon models are built with spirals inside the Cajon that press against the playing surface at a precisely defined angle. When the surfaces are played, the spirals vibrate in a controlled manner and produce a modern snare-cajon sound. The spiral technology can be removed from the 2inOne Cajon in one quick movement. The Cajon then produces the traditional Cuban sound.
About Schlagwerk Percussion
Schlagwerk Percussion has a 25 year history of manufacturing the professional German-made musical instruments. Through these years of innovation and experience, the company has laid the foundation for the most successful percussion instrument in recent years with the introduction of the first Schlagwerk Cajon. In the early 90s, the Cajon la Perú set the standard for sound and quality of the modern Cajon. This resulted in increasing international demand for Schlagwerk Percussion.
View All
Close
6 Reviews
Much better than other Cajons

I went through two different Cajons before settling on the Schlagwerk 2inOne. Much better quality and has a consistent distinct sound between the snare and the bass. Definitely worth the extra money, and still cheaper than half the Cajons out there.

First off, the craftsmanship on this cajon is flawless. I bought a LP Mario Cortes Cajon prior to this and didn't like the sound, so I returned it. It was always buzzing and rattled far too much. I did my research and decided to buy a Schlagwerk...the sound is far superior to other brands. The bass sounds great and although the snare takes some getting used to(you have to slap it hard), it sounds awesome as well. This is by far the nicest cajon I've ever played. Keep up the good work, Schlagwerk.

Love this cajon. Can't compare it with any other, but it's super!

Excellent Value, Versatile Instrument

This was my first Cajon. I knew I wanted to get one that I felt would last, but I also wanted to spend less than $300. It was a little scary to me buying a cajon without having a chance to play it, but I did a lot of research and the Schlagwerk name is spoken very highly of.

The Two in One Cajon is an awesome idea. The bass tones are deep and the snares actually sound like snares. I've played a few cajon's at churches were there isn't much snap at all. It's awesome to be able to take the snares out if you want to and get a cleaner sound, but the sound with the snares in is spot on.

I'm in love with this instrument. Perfect for all styles! Next up...the heck stick/side kick combo! I'll have to wait until Christmas though...

I decided to purchase this after reading some different reviews and boy was I not disappointed. It has fantastic low end and very responsive snare wires. I'd recommend this for anyone who is looking for a mid-high price high-quality cajon. It's superior to anything you could get from Meinl or the likes for the same price!

Thank you for your help and timely feedback. Very satisfied with the purchase and price. Will definitely recommend to family and friends.
View All
Close