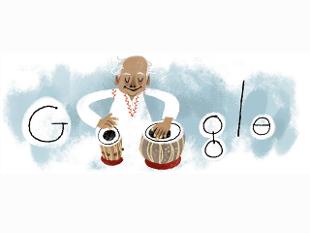 In case you missed it, Google's doodle on April 30 depicted tabla maestro Ustad Alla Rakha, an Indian tabla player and one of the greatest international musicians of his generation. The doodle was created in honor of the late musician's 95th birthday. The tribute came as a pleasant surprise to Alla Rakha's family and to music lovers across the world, including us at X8 Drums!
At the age of 12, Alla Rakha became so fascinated with the sound and rhythm of the tabla that he ran away from home to become a disciple of tabla player Mian Kader Baksh. Alla Rakha eventually became a legend tabla player, taking on his own disciples and playing as an accompanist for various soloists, most notably sitar player Ravi Shankar. Alla Rakha was also responsible for popularizing the tabla around the world and was one of the first musicians to promote fusion music by collaborating with musicians from across the world.
Alla Rakha's son Fazal Qureshi appreciated Google's tribute because it can spread awareness about Alla Rakha and his music to younger generations. As you might already know, clicking on Google's doodles will take you to search results for the person, holiday, or event depicted. Clicking on Alla Rakha's doodle took Googler users to a search results page for "Alla Rakha." Taufiq Qureshi, Alla Rakha's other son and a percussionist who has adapted the African djembe to the Indian rhythm style used when playing tabla drums, noted that the tribute was a reminder that his father's music and influence on world percussion continues even though he's no longer with us.
Just two days before the surprise tribute, Fazal had organized a tribute concert in honor of Alla Rakha, making Google's tribute even more joyous for friends, family, and disciples of Alla Rakha. Watch Alla Rakha in action in the video below:
Photo by Google.
Recent Posts
Looking to learn a new rhythm for your Djembe? Have you tried the Fanga beat? Fanga is a Lib …

Many seeking their own hand drum or djembe have experienced the magic of drumming and drum circles. …

Roll into a retro vibe with a groovy Lava Lamp Djembe from X8 Drums. It has a unique d …