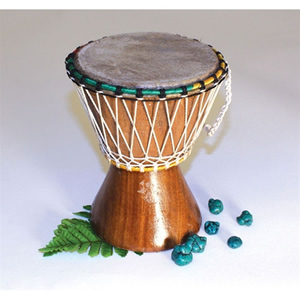 Even the most organized gift-giver runs into problems during the holidays, right before a birthday or even before a wedding or other milestone that requires a present. Usually, that problem is forgetting to get a gift, or that need to have one more item to make the experience of giving just that much more incredible.
Now, imagine you need one of those gifts for a drummer. A drummer who probably already has everything he or she wants, because picking drums and percussion instruments is such a matter of personal taste that no one but the drummer can really make the final selections. But, this person is so into drums, drumming and music that you just can't stand the thought of not delighting him or her with a unique, fun and perfect representation of their rhythmic passion.
Our advice: don't think big… think small!
Gifts for drummers may not seem easy to come by, but, there are plenty of options out there when you consider how much size plays into your quest. You aren't going to be the one who buys a drum set, or the perfect cajon for the drummer in your life. Even drum sticks and carrying cases can be a problem, since there are so many and only your drummer knows what he or she likes. Smaller items, however, are perfect for drummers, since they're not really going to be looking in that direction (for themselves) anyway.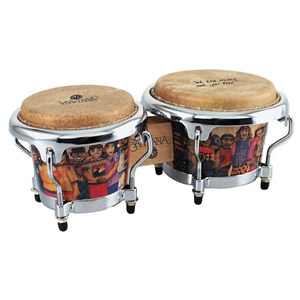 The Miniature Djembe Drum makes a great decoration and can be used for finger drumming, or while stuck behind a desk at work. Plus, your purchase helps benefit orphanages and communities in Africa.
The LP Santana Mini Tunable Bongos are small (only four inches high!) but, provide a great sound experience for any drummer. The artwork on these bongos is from Santana's Sacred Fire album, and is reflective of his wishes for peace around the world. If you love the LP Santana line, you should also check out the Latin Percussion Mini Tunable Conga.
While giving the gift of drum hardware may seem strange, for anyone who has ever spent a lot of time with a drummer or percussionist, we know all of those small instruments can make a big mess. LP Mini Everything Rack is just that: a small tool that keeps your drummer a bit more organized on stage, and at home.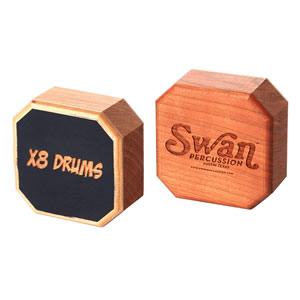 If you're thinking really small, you can't go wrong with a few new shakers for your favorite drummer. No two shakers are created equally, and that's part of the fun. We suggest the Tycoon Percussion Conga Mini Shaker. You might even want a set for you once you get a chance to play them!
(Or, you know, maybe your drummer needs more cowbell)

Shopping for the perfect gift is always a challenge, and many people really love the thrill of the hunt. Then, a drummer comes into the picture and throws all gift-giving reason out the window (love us for our chaos!). We know that you want to find a way to show us just how amazing we are, and that we're pretty picky when it comes to what we will put our hands, sticks or mallets on. Gifts for drummers are often found in the rhythm we get to play, and that's why the "little things" can make a big difference to us, including the presents we are lucky enough to receive. It's enough for us to know that we're part of the solution to life's little quirks, and not a problem on your gift list.
Recent Posts
Looking to learn a new rhythm for your Djembe? Have you tried the Fanga beat? Fanga is a Lib …

Many seeking their own hand drum or djembe have experienced the magic of drumming and drum circles. …

Roll into a retro vibe with a groovy Lava Lamp Djembe from X8 Drums. It has a unique d …