This post is by guest blogger, Jim Greiner, an internationally renowned, award-winning percussionist, community drumming leader and educator.
Group drumming is one of humanities oldest, and most universal, ways to energize and focus groups, build community bonds, enhance communication skills and to celebrate important events.
During the two years I spent drumming in Africa, I was profoundly moved by the way that the people used community drumming to uplift and unify themselves in very down-to-earth ways.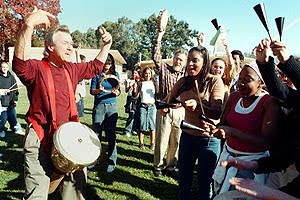 Community Drumming with Jim Greiner
Recent clinicical studies undertaken by Dr. Barry Bittman, MD (http://www.mind-body.org/bittman.html), have also demonstrated that purpose-driven group drumming has real-world benefits to people from all walks of life, including reducing staff burn-out, and even enhancing the body's immune system!
I've found in my worldwide drumming travels, that purpose-driven, group drumming, rooted in specific themes and goals, whether by African farmers, corporate employees or conference participants, is grounded in the same fundamental, universal principles that are the foundation of all thriving communities.
The fundamental nature of focused group drumming activities is that each participant has a part to play; each of these interdependent rhythmic parts then fit together to create the complete group rhythm.
These universal fundamentals then become a fun, lively and enduring way for groups of all types and sizes to reinforce, in immediate and powerful ways, the importance of each group member to contribute her or his individual skills, talents and personalities to shared goals and common values.
In this way, each group member contributes to creating a powerful, synergestic group rhythm that, in turn, supports the participants to be creative... to be innovative in their approach to meeting the challenges of today's work environment.
As one of my clients, Ralph Norris, CEO of Air New Zealand, said of one of my programs in New Zealand, "I particularly appreciate (that) you drew parallels between the theme of our conference, and the essential principles needed to make great, harmonius music."
Making harmonious music, and building powerfully productive community rhythms, by drumming together with a clear purpose, and rooted in fundamental rhythmic principles, has endured throughout humanity's history for one simple reason... it works!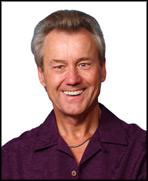 Jim Greiner, founder of Hands-On! Drumming® Events, is an internationally renowned, award-winning percussionist, community drumming leader, educator and inspirational speaker based in the Montery Bay Area of California. Since the 1980's, Jim has conducted interactive rhythm programs, including drum circles, worldwide for corporate team building, conference and meeting ice breaking and celebrating, community groups, schools and private groups. Jim's numerous awards and recognitions include seven Drum! Magazine Readers Polls including three for Drum Circle Facilitator of the Year, two for Percussion Educational Video of the Year and once for Percussion Clinician of the Year. More info, including videos, articles and percussion lessons can be found at http://www.handsondrum.com.
Recent Posts
Before we roll out the new releases this week, we want to congratulate the winner of our free dje …

Before we roll out the new releases this week, we want to congratulate the winner of our free dje …

Before we roll out the new releases this week, we want to congratulate the winner of our free dje …