"Rhythm is the soul of life. The whole universe revolves in rhythm. Everything and every human action revolves in rhythm." - Babatunde Olatunji
Babatunde Olatunji was a Nigerian man who moved to the United States in the 1950s. Though he attended Morehouse College and New York University to work in medicine, he fell in love with drums instead. Many claim that the musician introduced the world to world music.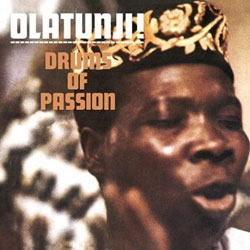 Cover art for the album Drums of Passion
Olatunji's music stood out to many of the jazz players of the area. Together, John Coltrane and Olatunji founded the Olatunji Center for African Culture in Harlem, the venue that hosted Coltrane's final show. Olatunji joined the Columbia label in the late 1950s. Olatunji made six albums with Columbia, debuting with Drums of Passion in 1959, which introduced many people on world music. The name of Olatunji's band was taken from this record. Olatunji often played with over twenty drummers on his albums, which is more than most musicians.
Olatunji continued to release music borne from a Nigerian flavor, with his recordings, The Drums of Passion: The Invocation and Drums of Passion: The Beat, although he released these under the Rykodisc label. The later album actually featured Carlos Santana, who scored a major hit in his debut release with "Jingo," a cover of a song off of the 1959 record, Drums of Passion. Though Olatunji released only a few records over the course of his more than forty years of active musicianship, with at least one album released after his death, he was a great influence for all types of drummers over time traditional players on bongo drums and djembe to modern players on electronic drum kits.
Olatunji has collaborated with dozens of musicians, popular in both past and present. Olatunji also worked with artists like Quincy Jones, Cannonball Adderly, Mickey Hart and Stevie Wonder. Mickey Hart and Olatunji's recording under the name Planet Drum won the 1991 Grammy Award for World Music. The musician was even referenced in Bob Dylan's "I Shall Be Free," off The Freewheelin' Bob Dylan.
Babatunde Olatunji was responsible for the scores for several movies as well. In addition to recording music with Columbia, Babatunde Olatunji wrote the score for the production of A Raisin in the Sun. He also did the score for the movie. In a move to save his career later on, Olatunji returned to cinema and is responsible for the music in Spike Lee's 1986 hit, She's Gotta Have it.
Throughout his career, beginning with his years with Columbia, Olatunji taught drum classes at a number of venues. He taught classes in African culture and music at the Olatunji Center for African Culture in New York, which he founded with the money from his performance at the New York World's Fair in 1964. He also taught at the Esalen Institute in California and the Omega Institute in New York.
Sadly, Olatunji died a few weeks after finishing Healing Sessions, his last record. Babatunde Olatunji died in April 2003, as a result of complications from diabetes. He was 75 years old. His friend, Dr. Edward "e.B." Williams remembered him fondly and shared a story that humanized this extremely influential musician: "With Tunji being the musician that he was, he was certainly able to appear in situations where there could have been some division of the races. He was always someone who was sought after because of his musical skills so that he was a quiet activist, I don't think that there's any doubt about that."
Recent Posts
Before we roll out the new releases this week, we want to congratulate the winner of our free dje …

Before we roll out the new releases this week, we want to congratulate the winner of our free dje …

Before we roll out the new releases this week, we want to congratulate the winner of our free dje …