Actions Speak Louder Than Words is true to its name. In Actions Speak Louder Than Words, an interactive percussive show, the leaders, who mime their way through this Rhythm Interactive showcase, speak not a word. Those in the audience follow along during the event, with an African hand drum at every seat, to perform with the leaders.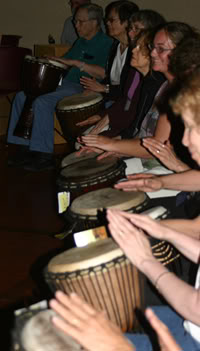 The show is the largest interactive stage production in all of New Zealand, providing a memorable experience for both visitors and locals alike. Though there isn't any language during the entire program, Actions Speak Louder Than Words is guaranteed to make you laugh, smile and play along.
Rhythm Interactive provides interactive entertainment both onstage and off. The group does shows for audiences, schools and corporations. Rhythm Interactive emphasizes the concept of unspoken communication, which they manage by miming directions and playing djembe. The show is completely devoid of language until the very end of the performance.
Rhythm Interactive travels anywhere needed in New Zealand and can provide the equipment for your needs, no matter the size of the group. Schools can take advantage of the three music education programs: the Icebreaker show, the drum and dance workshop and the teacher drum workshop.
The Icebreaker show is geared towards large groups of students. It lasts for about 45 minutes, during which the leaders and the students never speak. Each student plays one of the Rhythm Interactive African drums, learning about the benefits of teamwork and understanding. A spoken fifteen minutes of question and answer, and a presentation about the group and their music follow the performance.
The drum and dance workshop is designed for smaller groups of students. It begins with an Icebreaker show, and then continues into workshops that last for about an hour and a half. The group of students will be divided into three, and each smaller group will work with one of the leaders. At the end, the groups come back together and perform.
The teacher drum workshop is taught along the same lines as the corporate shows. It begins with the Icebreaker show and adds teaching material that teachers can use with their students. Corporate groups can choose from a number of different options for their employees.
While Rhythm Interactive is based in New Zealand, the program is one to benchmark for those looking for similar team building and music education workshops around the world.
Recent Posts
Before we roll out the new releases this week, we want to congratulate the winner of our free dje …

Before we roll out the new releases this week, we want to congratulate the winner of our free dje …

Before we roll out the new releases this week, we want to congratulate the winner of our free dje …