In the August issue of Downbeat magazine you'll find a great review of the new Toca Freestyle Djembes in Antique Gold and Silver. Below, we have included a copy of the piece as well as a transcription.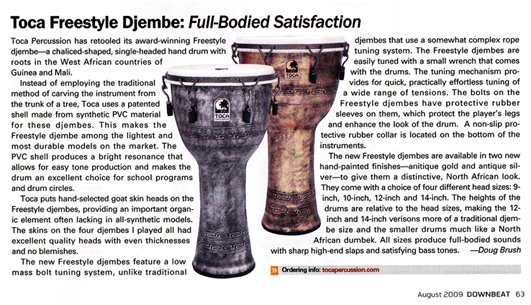 Toca Freestyle Djembe: Full-Bodied Satisfaction

Toca Percussion has retooled its award-winning Freestyle djembe - a chaliced-shaped, single-headed hand drum with roots in the West African countries of Guinea and Mali.

Instead of employing the traditional method of carving the instrument from the trunk of a tree, Toca uses a patented shell made from synthetic PVC material for these djembes. This makes the Freestyle djembe amongst the lightest and the most durable models on the market. The PVC shell produces a bright resonance that allows for easy tone production and makes the drum an excellent choice for school programs and drum circles.

Toca puts hand-selected goat skin heads on the Freestyle djembes, providing an important organic element often lacking in all-synthetic models. The skins on the four djembes I played all had excellent quality heads with even thickness and no blemishes.

The new Freestyle djembes feature a low mass bold tuning system, unlike traditional djembes that use a somewhat complex rope tuning system. The Freestyle djembes are easily tuned with a small wrench that comes with the drums. The tuning mechanism provides for quick, practically effortless tuning of a wide range of tensions. The bolts on the Freestyle djembes have protective rubber sleeves on them, which protect the player's legs and enhance the look of the drum. A non-slip protective rubber collar is located on the bottom of the instruments.

The new Freestyle djembes are available in two new hand-painted finishes - antique gold and antique silver - to give them a distinctive, North African look. They come with a choice of four different head sizes: 9-inch, 10-inch, 12-inch and 14-inch. The heights of the drums are relative to the head sizes, making the 12-inch and 14-inch more of a traditional djembe size and the smaller drums are musch like a North African dumbek. All sizes produce full-bodied sounds with sharp high-end slaps and satisfying bass tones. - Doug Brush
In addition to the Freestyle Djembes, Toca also offers a line of Freestyle Didgeridoo instruments.
Recent Posts
Looking to learn a new rhythm for your Djembe? Have you tried the Fanga beat? Fanga is a Lib …

Many seeking their own hand drum or djembe have experienced the magic of drumming and drum circles. …

Roll into a retro vibe with a groovy Lava Lamp Djembe from X8 Drums. It has a unique d …