I am retired from many diverse occupations and now, as a tension release, I beat on a Djembe. I tried to keep up with the lessons on CDs and although I like them, I really like to just play along with music CDs when no one is around. I haven't played in a while, but at 66 all things are okay. I love my drum. I like to play along with Rodrigo y Gabriela or mellow out with Ottmar Liebert. Marc Antoine and Johannes Linstead are pretty mellow too. Amik and Strunz & Farah are cool too. Then I hit the oldies - Fleetwood Mac.
---
I played tenor drum 102 years ago in the YMI Drum and Bugle Corps. We were a competitive marching band. I was 16 years old and thought it was cool. I wanted to play the snare drum but I took up flying and did not have the time to learn how to play drums. After flying for years as a civilian I went into the Air Force to keep from getting drafted into the Army, there was a war going on then, as now. I flew fighters but loved listening to drummers - Buddy Rich etc.
Well, a few years ago I met this guy at church who played the Djembe in our church band. He said I should give it a try. Then I watched the movie again - you know with the college professor who ends up playing the drum. I looked on eBay but I did not want to take the chance on getting a bad drum so I ordered a drum from X8 Drums and the rest is history.
We're so glad to meet a life-long fan of drumming! Thank you for your story, Rick!
---
Drummers, tell us why YOU love drumming and drum circles! We'd love to share your story, too!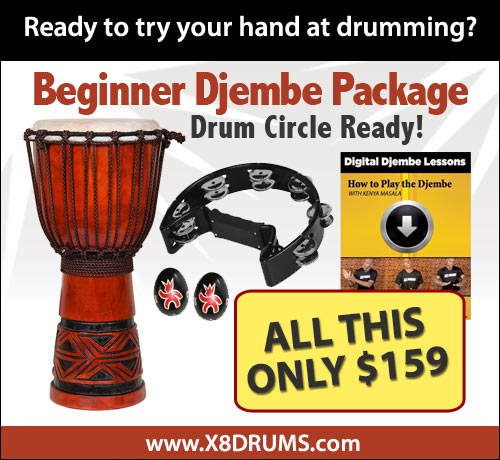 Recent Posts
Before we roll out the new releases this week, we want to congratulate the winner of our free dje …

Before we roll out the new releases this week, we want to congratulate the winner of our free dje …

Before we roll out the new releases this week, we want to congratulate the winner of our free dje …