I discovered drumming as a teenager. I have been drumming now for probably 30 plus years. I'm not a professional; I do it for fun and relaxation. I do it to manage nervous energy, as well as deal with stress! It helps me to relax and unwind, which seems an odd thing to say because it is also great exercise as well. There is not much more exhilarating than being in amongst 20 or more drummers all carrying their own beat, yet it becomes one. The energy and the feeling is indescribable.
---
I now own a set of congas, as well as several tambourines, bongos and misc. rattles and shakers. Once I got interested in it, I stayed interested. I have met many wonderful people at drum jams. For some reason people there seem to be so much more relaxed and outgoing, more able to be themselves. I think drumming helps to bring out your self-confidence. It makes you more comfortable in your own skin, with your own heartbeat!
If you have an interest in drumming then follow it! There are always so many wonderful people at drum jams more than willing to help you learn. My first drum was a gift, a ceramic drum with a really unique sound, which I gifted on to someone else when I actually was able to purchase my first Djembe. Here I am, going on almost 50 years old and still drumming! One beat....one heartbeat!
Self-confidence, stress, and just the pleasure of rhythm - you got this! Thank you for sharing your story with us, Maria!
---
Drummers, tell us why YOU love drumming and drum circles! We'd love to share your story, too!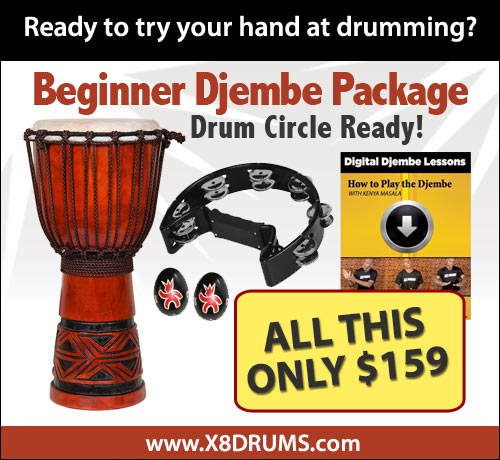 Recent Posts
Before we roll out the new releases this week, we want to congratulate the winner of our free dje …

Before we roll out the new releases this week, we want to congratulate the winner of our free dje …

Before we roll out the new releases this week, we want to congratulate the winner of our free dje …