I became interested in drumming for two reasons. One, it looked like a fun thing to do with others of like interests. Two, I thought that my elementary school students would really like to do it too. I found a couple of drum circles that met in the Houston area including one on the beach in Galveston! And I decide to see how I could include drumming in music curriculum my elementary students.
---
Looking on the internet, I found music educators who were using drumming in educational settings and I contacted them. They shared how they use drumming in their recreational and educational programs. And some are successfully using drumming with at risk students and special needs students with great results. Several mentioned Christine Stevens. I looked up Christine Stevens and noticed that she was going to lead a drum circle facilitator workshop at PASIC in Austin. I attended that workshop and gained so much that I use all the time. While I was at the Christine Stevens workshop, I met Kenya Masala from X8 Drums. He assisted at the facilitation workshop and was so positive and full of energy. Kenya also talked with me, answered my questions and was really encouraging and supportive.
That was 2 years ago. Since then, I have acquired some drums for my students. Some new, several were donated or purchased used. We would love to have some more. But there is only a small budget, so we rely on donations and DonorsChoose. The first djembe I purchased was a 9" djembe from X8. My students will do anything to play the drums. They love it. And what leverage it offers! We talk about listening, focus, respect, and teamwork. If you aren't being nice and working hard, you lose the opportunity to play. Drums are powerful. Playing drums with others builds up their confidence and increases their focus and attention.
In addition to developing social skills and cooperation, I use drumming to teach music concepts, rhythm, ethnic music from Africa, the Caribbean and other countries. This year I started a marimba drumming ensemble that meets in the morning before school. We play West African music using our Orff instruments, djembes and tubanos. The kids are doing great. In music classes, my students have a hands on opportunity to learn about patterns in music, playing with others, sharing musical ideas and performing formally for others. I include drumming as a part of the music curriculum along with singing, recorders, dance, and music games.
Thanks to Kenya and X8 Drums for showing me a new way to share music with kids. I am always available to share what I have learned with anyone.
Thank you for sharing your story, Larry!
---
Drummers, tell us why YOU love drumming and drum circles! We'd love to share your story, too!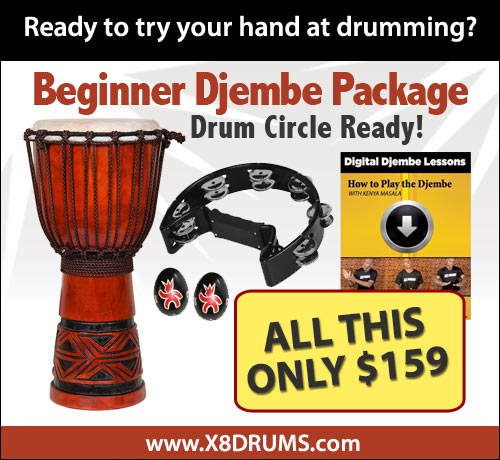 Recent Posts
Before we roll out the new releases this week, we want to congratulate the winner of our free dje …

Before we roll out the new releases this week, we want to congratulate the winner of our free dje …

Here's our top 10 list of gifts for the drummer on your list this holiday season. Each one has be …