I began my drum journey 2 1/2 years ago by signing up for a hand drumming class at the local recreational center. The instructor showed a real love for the drum and was very patient with all us new drummers. He provided beginner drums for the class but after just two classes I KNEW this was something I wanted to continue so purchased my own djembe drum from a local music store.
After taking the beginner and intermediate classes, I was asked by the instructor to help him begin a drum circle. The circle was very successful and continues to this day and although going through a couple of transformations, continues to draw a great core group with many new drummers providing great energy. I love drumming and the sense of community it provides as the many become the one. The freedom to explore our individuality while meshing with fellow drummers is a unique experience. The spiritual and rhythmic ambiance of the circle provides a sense of community and personal peace to me.
I attend at least three drum circles per month and look forward not only to the drumming, but also to the camaraderie and fellowship I have developed with the many new friends I've been fortunate to meet because of the circles.
Thank you for your story, Joyce!
---
Drummers, tell us why YOU love drumming and drum circles! We'd love to share your story, too!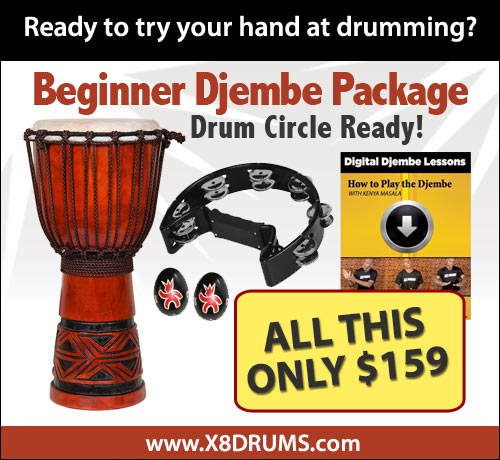 Recent Posts
Before we roll out the new releases this week, we want to congratulate the winner of our free dje …

Before we roll out the new releases this week, we want to congratulate the winner of our free dje …

Before we roll out the new releases this week, we want to congratulate the winner of our free dje …