I found my Remo Adinkra key-tuned 12" Djembe at a garage sale for $40 around three years ago, and bought it on a whim thinking I could play along with my husband on his ukulele. Well, living in Austin it's not surprising that we have a few friends who are musicians and we started jamming with them and learning a few songs. Also, while poking around on the internet one day, I found a girl called The Djembabe - Melanie Howe - and she is an awesome percussionist and an inspiration to me.
Now its two years later I am playing in a band called Ukoloco. We consider ourselves in the 'trop-rock' genre but we play lots of different music from Jimmy Buffet to U2 and Elton John to Andean Fusion as well as some original stuff.
---
Mostly we play for fun and at open mic nights around Austin but we have had a handful of 'paying' gigs- well, actually just bar tabs-lol. We have played the last 2 years at Phins to the West and we are always looking for places to play that would be a good 'fit' for our music.
Today, I own 3 djembes and a set of mini-congas and I'm so glad I found X8 drums! They have a great selection of drums and accessories as well as very informative videos and even online drum lessons! I enjoy playing at drum circles because not only is it fun but I think it helps me to learn new skills and become more comfortable playing my drums. I also really enjoy the high energy and diversity of musical expression that is found at drum circles and Kenya is a great facilitator at the X8 Drum Circles in Austin. If you ever thought you might enjoy playing the drums, you should come to a drum circle and see how much fun it really is!!!
Thank you for your insight, Cindy!
---
Drummers, tell us why YOU love drumming and drum circles! We'd love to share your story, too!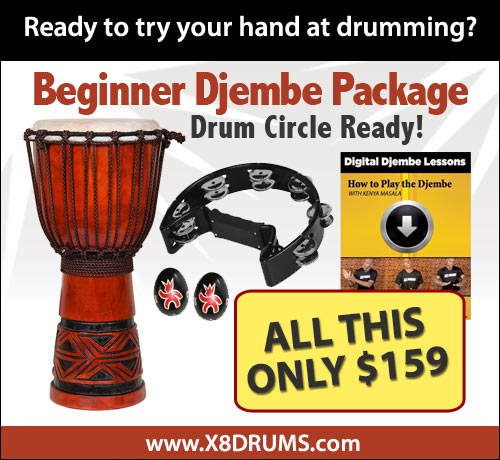 Recent Posts
Before we roll out the new releases this week, we want to congratulate the winner of our free dje …

Before we roll out the new releases this week, we want to congratulate the winner of our free dje …

Before we roll out the new releases this week, we want to congratulate the winner of our free dje …