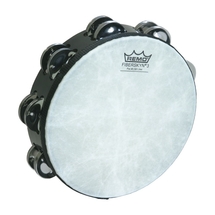 As experts, we believe there are tambourines, and then there are Remo tambourines. Remo may be best known for the innovative materials used in their drum heads, originating from Mylar® first used in World War II. With the success from using Mylar® on drums and tambourines, Remo has continued to create new materials, coatings and finishes that make each drum head a wonder to behold. This attention to design is what makes Remo tambourines such a great investment for any musician, drummer or percussionist.
Remo is a "drummer's drumhead company," meaning that the needs of a drummer are incorporated into each iteration of drumheads, drums and percussion instruments the company has produced. This same care and concern for the drummer has easily translated into the needs of all percussionists, which may be best seen in the wide variety of Remo tambourines available. In short, Remo has been a strong contender in the world of quality percussion instruments ever since it first began rocking our world.
The perfect Remo tambourine is literally right at your fingertips, and reaching out to grab one is just the first step on a journey toward percussive greatness. The standard Remo tambourine fulfills the needs of the musician who is seeking a crisp sound that just keeps on giving. From its Fiberskyn 3 drumhead (the world's most widely recorded synthetic world percussion head) to the double row of jingles on the Acousticon frame, this tambourine embodies classic design while taking advantage of decades of innovation.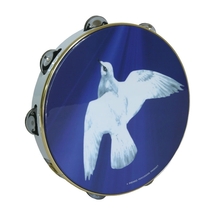 Remo tambourines also have a reputation for stunning visual aesthetics, especially for those who play devotional music or like to add a little flash in a church setting. Without compromising the sound of the tambourine, Remo has created several religiously-inspired models that depict classic works of art on the drum surface of the tambourine or symbols of faith like doves or praying hands.
On the funkier side of visuals, there are Prizmatic and Radiant Remo tambourines that also incorporate great sound and a striking appearance. These tambourines make any band stand out, reflecting the lights from the stage as they reflect the essence of music itself. For any band, looking great may not be as important as sounding great, but, why not get the best of both worlds from the simple, yet powerful tambourine.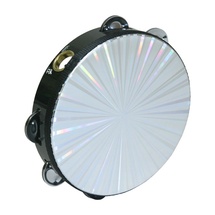 Not only are Remo tambourines built for sound and style, but, they are also among the most inexpensive tambourines on the market today. The quality of design and construction in these instruments has not taken away from the considerations any musician has when it comes to cost. There is no doubt that a Remo tambourine provides top-quality sound, yet will be an affordable investment that continues the tradition of great music, no matter the genre.
As a "drummer's drumhead company," Remo has proven its dedication to drummers around the world. With each passing year, the continual evolution of percussion instruments shines brightly (if not the brightest) through Remo. With artist like Alessandra Belloni, Brad Dutz, Randy Gloss and Layne Redmond all endorsing Remo tambourines, there is no doubt of the value placed on the construction, sound and appearance of these instruments.
Musicians can be picky, especially when it comes to the instruments they play. Even the smallest instrument is a reflection of a musician's style; yet, many overlook the details that are put into an instrument like the tambourine. Tambourines are essential to all styles of music, and should never be underestimated for the value they bring to the stage, studio, classroom or even the local community jam. Remo tambourines take that value a few steps further, and bring great music within our reach.
Recent Posts
Before we roll out the new releases this week, we want to congratulate the winner of our free dje …

Before we roll out the new releases this week, we want to congratulate the winner of our free dje …

Here's our top 10 list of gifts for the drummer on your list this holiday season. Each one has be …