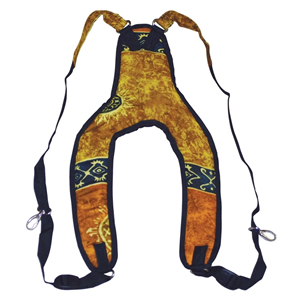 Drummers have to contend with a lot of aches and pains in the process of creating beautiful rhythm. While we may appear to have unlimited energy and a spirit of folly at times, that doesn't mean we don't have the same feelings as the rest of the world – especially when it comes to our bodies. Drumming is hard work, and even if we're the drummer who sits behind a drum set, we can feel the burn in our legs, arms, neck and back.
But, this isn't about those drummers who sit… this is for the drummers who stand up proudly and walk around with a djembe or other hand drum at their side (or, rather, at their front). This is for the hand drummer that can't sit still and who must keep moving… the problem is that most hand drummers only have enough hands to drum with, not to actually hold the drum. That's where a drum strap comes in… they're handy… get it?
Drum straps are pretty common in marching bands, for the same reason. Not enough hands to go around, and we just can't sit down. Djembe drum straps are similar to marching drum straps in purpose, obviously. The drum strap holds your drum in a place where you can easily walk and drum. But, djembe drum straps have a little extra flair, a little more style… a little more djembe personality to them than the other straps. Because, they're for a djembe… and you don't often see a formation of djembe drummers on a football field during halftime (although, wouldn't that be awesome?), you see marching band drummers who must visually conform for the sake of the band.
Djembe players, not so much.
Djembe straps come in different styles – those that go over the shoulder(s) or as a belt. Other hand drum straps help secure the drum to the lower arm/wrist area. All of these varieties make sure of one thing… that a hand drummer who must dance, will dance… a djembe player who must walk, will walk… and that the drums they love are safe and secure, swaddled in the comfort of love and adoration that only drummers can give.
Get your drum strap on! And, be sure to watch our friend, K. Solomon Masala, show you how to make your own djembe strap, too!
Recent Posts
Before we roll out the new releases this week, we want to congratulate the winner of our free dje …

Before we roll out the new releases this week, we want to congratulate the winner of our free dje …

Here's our top 10 list of gifts for the drummer on your list this holiday season. Each one has be …