In this video djembe lesson, Michael Pluznick shows the basics of how to do a six stroke roll, which is very useful in soloing. A six stroke roll refers to the number of beats or hits your hand makes per phrase when making a roll. The drum roll starts on "the one" or first down beat and and ends before the second downbeat.
In this video:
Rear view of the basic phrase. Watch Michael's left leg it is holding the four count or beat.
The next section shows the phrase in slow motion.
Group of solo phrases all based on the six stroke roll. They are all a little different. Michael calls it a "chain of events".
Detailed Lesson Description from Michael
So we are going to first play the basic 6 stroke roll we just learned starting with the right hand slap on the one.
The second six stroke roll we are going to play the six stroke roll in a "hand over hand" style pattern where we alternate making the slap with our right hand first then the left hand. Slap tone tone, slap tone tone, slap one tone, slap. So it starts with a right hand slap, then a left hand slap then a right then ends with a left. There are two tones in between each slap of course.
The next 6 stroke roll we are going to play starts with the right hand slap but instead of alternating hands we are going to just hit a slap on our left hand.
If you were counting each beat you were playing 123456 you would be hitting beat 6 each time in this roll.
The last roll we are doing accents 3 hits stating on the 6th beat but then hitting 3 tomes in a row the first itme then just hitting the 6th beat
At the end of the video I show the six stroke roll in action at a jam session on the streets of Bangkok.
---------------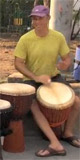 by Michael Pluznick
Internationally-recognized musical djembe drummer and percussionist, Michael Pluznick has introduced his new Signature Eco-Pro Djembe Drums and Instructional DVD for Djembe Players now available at X8Drums.com.
Recent Posts
Before we roll out the new releases this week, we want to congratulate the winner of our free dje …

Before we roll out the new releases this week, we want to congratulate the winner of our free dje …

Before we roll out the new releases this week, we want to congratulate the winner of our free dje …