Learn how to play the basic accompaniment parts, also called the passport parts 1 and 2 for 4/4 rhythm arrangements. Follow step by step instruction as well as easy to follow slow motion segments to make learning easy.
In this free lesson Michael Pluznick will show you two very simple accompaniment parts for playing in traditional West African djembe and dundun arrangements. These are called 'passport parts' and they can be played in several different pieces.
Passport Part 1
You'll start by learning the patterns by verbalizing the beats because if you can say it, you can play it. Next, you'll play the part on the drum.
Each rhythm starts and ends with a "break" or call-in. This break is also a signal to dancers that a change is coming in the beat.
The break starts with a technique called a "Flam". This stroke is where one hand hits slightly before or after the other hand giving a "double" sound with a slight delay. You'll learn this technique in slow motion as it is important to master since it is used so frequently in djembe playing.
To round out this segment, you'll play the break, passport part 1, then the break.
Passport Part 2
Michael will verbalize the rhythm pattern of the part then teach you to play it on the drum. You'll then integrate it into a break, passport part 2, then a break.
This segment also includes slow motion sections to help with learning the strokes.
Play along with an ensemble
Join the ensemble where all parts are played at normal speed.
---------------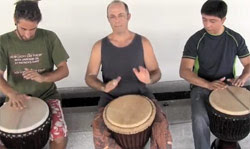 by Michael Pluznick
Internationally-recognized musical djembe drummer and percussionist, Michael Pluznick has introduced his new Signature Eco-Pro Djembe Drums and Instructional DVD for Djembe Players now available at X8Drums.com.
Recent Posts
Before we roll out the new releases this week, we want to congratulate the winner of our free dje …

Before we roll out the new releases this week, we want to congratulate the winner of our free dje …

Before we roll out the new releases this week, we want to congratulate the winner of our free dje …