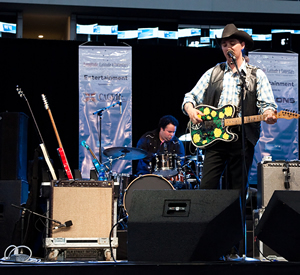 Too often, the "look" of a drummer is that of a sweaty, shirtless rocker behind a ginormous drum set with double bass pedals and octopus arms hammering away. Or, there's the laid back jazz drummer with a hi-hat, drum brushes, cool hat and sunglasses. But, when you think about a country music drummer, that image might be a little bit blurry, unless you're playing in a country band or a fan of country music. Even then, there's not a lot of country music drummer hype, or so it can seem, when questions start hitting you, like, "what kind of drums does a country music drummer prefer?" or, "What is the sound of country drumming?"
If this sounds familiar, you're not alone. Country music drumming has a unique vibe and history that has left the genre to its own devices over time. Too many of "y'all" aren't even sure that country music drummers exist. That could be because for decades, country music drumming really didn't exist.
True story.
There was a time when drums were not considered appropriate for country music; they were too loud or too "rock and roll" to use in most recordings or performances. Rhythm guitar was the rhythm in a country song, or the percussive toe-tappin', thigh-slappin' method was used. Drums weren't even allowed on stage at the Grand Ole Opry until the 1940s. Traditional country music was about the stringed instruments and the vocals with little to no emphasis on percussion instruments. Today's country music reflects much of the same composition, but, we're lucky that more country bands and artists have embraced the beauty of drums, and with excellent results.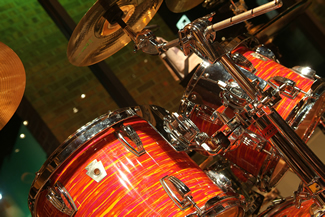 Country drumming is one of those simple complexities in the world of rhythm, which shouldn't surprise any drummer or fan of the music. A country music drummer has to keep in mind plenty when playing that "simple" beat, including:
They must know how to interpret the music on a different level than most. Country music has a proud reputation to uphold, and the drums become part of that emotional connection, enhancing phrases and vocals to emphasize the meaning behind each song.
They have to know "old school" rhythms from the big band era, and train beats and shuffles, because that's what gets people dancing. If there's one thing country music is best known for, it's the crowd of two-steppers or line dancers… or even the square dancers.
It is their mission to remain just as true to the band and music as they do to the dancers, all while playing perfectly, since missing a beat will throw off the whole song. They don't often get time for a solo with a few missed beats that can be covered up, their focus is on keeping a steady beat with a few fills… so if they mess up, everyone will know. No pressure.
They are a source of irony that no hipster will ever obtain. That's pressure.
Country music drumming may lack the attitudes we attach to rock or jazz drumming, but, country music drummers are usually okay with that… or they'd be rock or jazz drummers. Plus, most country drummers can show off their rock and roll, jazz or any other rudiments and skills as needed, whereas it might be a little difficult for a hard-hitting thunder drummer to tone it down a few notches and play an entire country song without missing a beat. It takes a special kind of drummer to play country music, and maybe that's what makes them just that much more exceptional – they're the heartbeat of country music. For a genre that is best known for its emotional connection, there's really no more important seat, or throne, to have.
Recent Posts
Looking to learn a new rhythm for your Djembe? Have you tried the Fanga beat? Fanga is a Lib …

Many seeking their own hand drum or djembe have experienced the magic of drumming and drum circles. …

Roll into a retro vibe with a groovy Lava Lamp Djembe from X8 Drums. It has a unique d …