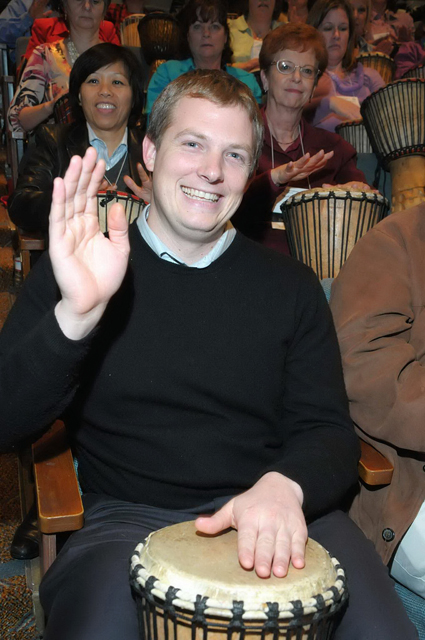 Drums are a great means of communication. Drumming has been used historically as a form of communication between people. The Djembe drum was first used by tribes in Africa to communicate over large distances. They were also used in the cultural celebrations of these tribes. Drums have always been a force that brings communities together to form important relationships.
In today's corporate world connection between people can be difficult due to the fast pace and high demands placed upon employees. Technology has taken much of the human interaction out of communication. This lack of human connection has shown its effects with lower productivity and lower morale. Team building is an important part of any business, especially one filled with text messages, emails, commutes, and other stressful daily tasks.
Drumming brings people together. People are able to form connections and communicate on a new level. The drums show that no one person is more important than anyone else. The beats of the drums all come together to form something great. This is very similar to the way that no business could function without each of the individual parts. Everyone helps create the end result. This activity gives people the chance to take part in a non-hostile, creative, harmonious activity. These stress relieving exercises usually take place at corporate retreats, workshops, and conferences.
Through drumming each member of the team is allowed to express themselves creatively, while trusting the other members to bring something special of their own to the music. No one member of the team can be more musically important than the others, regardless of the instrument they are playing. Group members must work together to produce different rhythms and get the most out of the experience.
As businesses struggle to gain a competitive edge they must rely on teams of employees to do the best work they can. Team building exercises are being used more and more frequently to instill an environment of open communication and cooperation. Each employee needs to feel that they are a necessary part of the team. These events are not only beneficial in increasing productivity, but they help to reduce stress in the daily lives of employees. The reduced stress level and increased communication fostered through these programs can have lasting positive effects on both the employees and the company.
X8 Drums and percussion offers drum circle facilitation services for corporations and other events, led by experts with extensive experience with rhythm and drumming. For more information, see our drum circle facilitation page here.
Recent Posts
Tycoon recently released a new cajon to add to their many cajon options. While a new cajon might …

Drumming is knowing I am part of history and years of a way of life. It's spiritual to me and …

Understanding the Traditional Rope-Tuned Djembe Djembe drums or djembes are primarily of two ty …