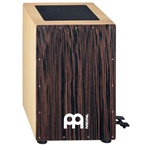 So you've been turned, converted into a fan, and now a connoisseur of the warm sounds of the cajon - the delightfully storied instrument that became the most widely utilized percussive tool in Peru. Its origins lie in the dark days of the 18th century, when the slave trade was responsible for the forced expatriation of labor from Africa to plantations in the New World of the North and South American continents.
Newer incarnations of the humble cajon have added a range of distinctive sounds and effects as artists made additions to their instruments. This tweaking has resulted in a percussion instrument that delights listeners and artists by incorporating high and mid tones into something that typically had only low notes.
Choosing the right cajon for you involves a process that is discerning, attuned with your needs and delivers the sounds you want to create. So what are the things to keep in mind when making a drum purchase?
To start with you need to ask yourself some basic questions. Will you ever play it? Or are you merely indulging a whim? The venue's you will play, as a performer, will also help narrow down your selection as you look to choose a cajon that best suits the setting.
What about your budgetary constraints? As with all musical instruments, you can purchase less expensive products as well as bespoke hand made products that provide far richer sound and rich tone, but also cost the equivalent in cash terms. So are you a professional artist or hobby enthusiast?
Once you have decided on the parameters you want to work within; next comes the fun part of hunting down the drum that reflects your sound and your unique signature style. And how is that done? Easy.
Look at build quality: While price can be a reflection on quality, it's not always true. Branding can be a reason for higher prices (as with all goods, from jeans to cars) but that doesn't mean to overlook smaller players who may sell well made products by crafting them more carefully as they aren't into mass production. Check out how the instrument is built, the detailing and finish. According to most artists, higher density hardwood is the best construction material as it adds bags of character, flavor and sounds to the cajon.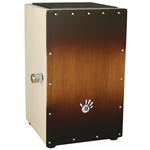 Check out different brands: Don't limit yourself to one maker or brand. Look around, and give a few drums a listen before you decide on your final instrument.
The Sound: Definitely the most vital component for enthusiasts and professionals alike. Some Cajon's are purposefully built to add layers of sound and texture; others are made to deliver punchier bass lines. And the addition of snares obviously adds another layer of sophistication to the drum's unique sound. Understanding the difference between what you want and what sound you desire will help make the experience far more rewarding.
A cajon is a delightful instrument. One that produces warmth, depth and a unique sound that, in the hands of a percussionist, can bring happiness and joy to those in close proximity. At once current however has a rich legacy that carries over centuries. Choose wisely - for this is going to be your sound.
Recent Posts
Looking to learn a new rhythm for your Djembe? Have you tried the Fanga beat? Fanga is a Lib …

Many seeking their own hand drum or djembe have experienced the magic of drumming and drum circles. …

Roll into a retro vibe with a groovy Lava Lamp Djembe from X8 Drums. It has a unique d …