X8 DRUMS, SWAN PERCUSSION and VORTEX Repertory Company invite you to the "Austin Community Drum Circle."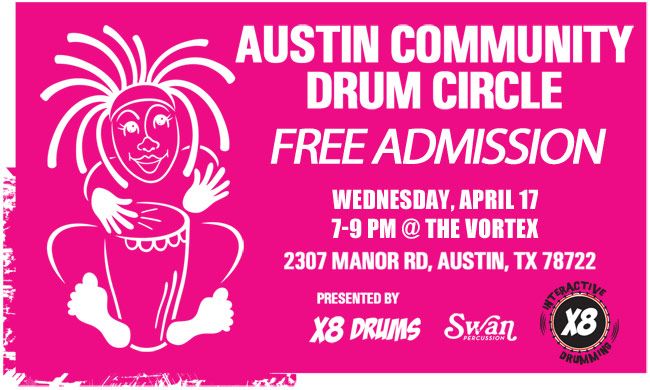 X8 Drums, VORTEX Repertory Company and Swan Percussion invite you to drum in the first day of Spring at the Austin Community Drum Circle on Wednesday, April 17th. In addition to the music, we'll be raffling off musical prizes to those in attendance.
Spend some time feeling the rhythm and invest yourself in the interactive experience of an evening drum circle around a bonfire right in East Austin. Coordinated by the staff members of Austin's own hand drum shop X8 Drums & Percussion and facilitated by X8 Drums endorsed artist Kenya Masala, this drum circle will be a fun and relaxing community event.
Any type of instrument is welcome, so be sure to bring anything from your didgeridoo to your conga. X8 Drums will also supply djembe drums and percussion instruments to those without an instrument. All ages welcome and The Butterfly Bar @ The VORTEX will be open serving drinks and cocktails.
About the Event Sponsors
Headquartered in Austin, TX and serving drummers around the world, X8 Drums provides its customers the ultimate interactive shopping experience for all things drum and percussion. They are committed to providing superior customer service, strong product knowledge, exceptional video demos, and the best selection of high quality products including their own line of hand crafted world percussion instruments.
VORTEX Repertory Company was incorporated in 1988 to create innovative productions of original work. Since 1990, VORTEX has operated in various performance venues and today owns its own facility in East Austin, providing an intimate venue for the VORTEX Repertory Company as well as other local and national theatre companies, musicians, dancers, and performance artists.
Swan Percussion is a manufacturer of high quality cajon drums all hand crafted right here in Austin, TX. The creators are committed to developing high quality, versatile, innovative percussion instruments for the discerning professional and amateur alike.
Date: Wednesday, March 20th, 2013
Time: 7:00pm - 9:00pm
Location: VORTEX Repertory Company
Street: 2307 Manor Road
City/Town: Austin, Texas 78722
Cost: FREE
Notes: This event is RAIN or SHINE. Drumming will move indoors if weather deems appropriate.
For more information, join the Austin Community Drum Circle group on Meetup.
Recent Posts
Roll into a retro vibe with a groovy Lava Lamp Djembe from X8 Drums. It has a unique d …

The New X8 Vintage Series Handpans features a two-tone finish (key dimples are gold, pan is silver), …

The new X8 Play-Along Series is being produced for our musician friends wanting a fresh way to wo …