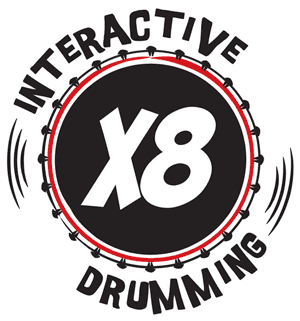 AUSTIN, TX (01/22/13): X8 Drums & Percussion, a leading world percussion brand and e-commerce drumming superstore is excited to announce its partnership with ZaBoomBa, an innovative and nationally recognized facilitation company offering interactive drumming programs to businesses, schools and organizations. Together they launch X8 Interactive Drumming.
"Interactive Drumming is one of the most powerful ways to experience the strength that comes from collaboration" notes Kenya Masala, founder of Zaboomba. "With X8's pristine customer service reputation, and its momentum as a company bringing the inspiration and energy of drums and percussion to the world, it is an honor to walk the talk of collaboration with X8. My consulting work has always been about inspiring collaboration; now, as X8 Interactive Drumming we get to combine the programmatic strengths of ZaBoomBa with X8 and bring the best interactive drumming experiences to more businesses, schools, and communities." Masala adds "it's an incredible opportunity for partnership, a win for everyone, and I simply could not be more thrilled!"
President of X8 Drums & Percussion and co-founder Mark Stancato notes "When Kenya first started describing his work with ZaBoomBa, I felt an immediate connection to his passion and energy. He was perfectly describing where I wanted to take X8 Drums in helping to bring the power of drumming and rhythm to all." Stancato adds "After seeing Kenya's ZaBoomBa program in action and the engaging response from the participants I knew this was the right match."
X8 Interactive Drumming will now have the ability to reach more people, and offer even more opportunities to bring the incredible energy of drumming and rhythm experiences world-wide.
For more information about X8 Interactive Drumming, visit www.X8InteractiveDrumming.com
Media contacts: Kristin Stancato, X8 Drums & Percussion: (512) 757-8544. press@x8drums.com
About X8 Drums & Percussion, Inc.
Headquartered in Austin, TX - X8 Drums & Percussion provides its customers the ultimate interactive shopping experience for all things drum and percussion. They are committed to providing superior customer service, strong product knowledge, exceptional video demos, and the best selection of high quality products including their own line of hand crafted world percussion instruments.
Related content:
Kenya Masala, X8 Drums Endorsed Facilitator Profile