People are often surprised when they hear I'm taking up drumming. They say, "You're getting older. Do you feel behind?" Well, I'm pretty sure drumming opportunities won't expire like a hot day spa Groupon. True, I didn't start as a teen. I didn't geek out on a drum kit for 6 hours a day during summer break. And I likely won't be the next Neal Peart or Buddy Rich.
---
I drum because it moves me. It moves my body - literally feeling the groove push my limbs to stomp and sway and pop. It moves my soul--makes me feel something with no words or attempt to influence. And it moves my mind - especially at a big community jam where a giant, rich, imperfect groove puts me in a trance. It's one of the only times my busy mind stops racing and goes into a completely relaxed, blissful mode. Ahhh drumming. You with a djembe or a shaker. You, experiencing and creating laughter, movement, and rhythm that moves you well beyond the moment. That's where your creative groove lives.
As for my drums, I own a bunch of things...Pearl drum set, X8 stallion pro djembe, Meinl bongos, Newl Cajon, Swan shakers, and a bucket of other random percussion.
Lisa, you are an inspiration to us all, thank you for sharing your story with us!
---
Drummers, tell us why YOU love drumming and drum circles! We'd love to share your story, too!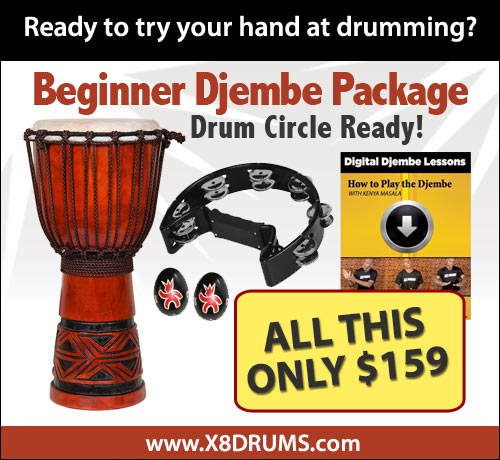 Recent Posts
Before we roll out the new releases this week, we want to congratulate the winner of our free dje …

Before we roll out the new releases this week, we want to congratulate the winner of our free dje …

Before we roll out the new releases this week, we want to congratulate the winner of our free dje …