This post is part of the Michael Pluznick author residency at X8Drums.com. Enjoy!
Many times when we are playing djembe with our friends or by ourselves, there is no dundun available. There are three dunduns in the dundun family; Kenkeni which is the smallest, Sangban and the Dundunba. The drum is traditionally played with a stick on one side and often a dundun bell on top or in Mali sometimes they use a bell that hangs like a ring on your thumb.
In this video we are going to show you how to play a dundun part within the djembe context. That typically means that there are only two people performing and you want to integrate some of the bass notes, feel and pattern of one of the dundun parts through the djembe. Diansa (aka Danza,Dansa,Djansa) rhythm from Mali for two djembe players when there are no dununs (djun djuns)
Video Features:
Diansa with built in Sangban Part
Diansa Djembe for 2 players. Part 1 slow motion sequence
Diansa Djembe for 2 players. Part 2
Diansa for 2 players. Both Djembe parts played together, No solos
Diansa parts 1 and 2 together
This video was made using the new MP Eco Pro 12" and 13" wood djembe drums. Available only at X8Drums.com.
---------------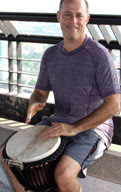 by Michael Pluznick
Internationally-recognized musical djembe drummer and percussionist, Michael Pluznick has introduced his new Signature Eco-Pro Djembe Drums and Instructional DVD for Djembe Players now available at X8Drums.com.
Recent Posts
Looking to learn a new rhythm for your Djembe? Have you tried the Fanga beat? Fanga is a Lib …

Many seeking their own hand drum or djembe have experienced the magic of drumming and drum circles. …

Roll into a retro vibe with a groovy Lava Lamp Djembe from X8 Drums. It has a unique d …