X8 Sound & Quality Check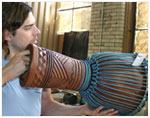 Before your drum ships, an X8 Drum Tech will personally inspect it for quality, construction and optimum playability.
The X8 Drums Sound and Quality check includes close inspection of the drum head and ring system to make sure there are no flaws in the skin and the rims are ready to perform. We also closely examine the drum shell for any cracks or imperfections that would effect the drum's performance.

All work performed on your djembe is done by experienced djembe techs that are also active, performing hand percussionists. You can order with confidence knowing that your drum will pass through the hands of a serious player for inspection before it ships to you.
As you get to know your drum, most players will learn to tune and maintain its playability. Every new X8 Djembe comes with a Djembe Care and Maintenance Guide that will help you learn how to rope tune and provide you with tips on keeping your drum in excellent condition for years to come.
Contact Us
Click here for our X8 Drums contact information.