Schlagwerk Bass Cajon Booster Set
(No reviews yet)
Write a Review
Schlagwerk
Schlagwerk Bass Cajon Booster Set
SKU:

BCSET

Availability:

Inventory availability is subject to change. Please contact us to confirm that this item is in stock.
Description
The Schlagwerk Bass Cajon Booster Set includes the BC 460 Booster Boxx with base plate and the Roland Peil Signature Cajinto with floor stand. (Hi-Hat and CP 404 sold separately)
BC 460 Booster Boxx 2inOne
Playing surface: Beechwood
Resonance box: 7 layers of Gabon Wood
Dimensions: Approx. 20" x 12" x 19"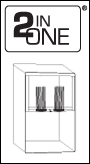 Booster Boxx: The name is standard for musicians. This Bass Cajon, which was designed for use with a pedal and BP 40, makes an amazing bass drum sound on stage. The integrated snare cross-bar helps to create a totally realistic sound (distinctive vibrating snare wires). The frequency range lies just above that of "normal"Ν bass drums, thus offering an absolute impressive, interesting and assertive alternative.
CC 202 Cajinto Roland Peil Signature w/ Floor Stand
Playing surface: Beechwood
Resonance box: 7-layered Alder
Dimensions: Approx. 11" x 11" x 12"
The playing surface of the Roland Peil Signature Cajinto, which is 2/3 rough, has proved ideal for playing with rods and brushes as well as with the typical hand-playing technique. Thanks to its 2inOne-Technique, a wide spectrum of sound can be achieved, ranging from originally Cuban sounds to banging rim - shots when used as a snare.
About Schlagwerk Percussion
Schlagwerk Percussion has a 25 year history of manufacturing the professional German-made musical instruments. Through these years of innovation and experience, the company has laid the foundation for the most successful percussion instrument in recent years with the introduction of the first Schlagwerk Cajon. In the early 90s, the Cajon la Perú set the standard for sound and quality of the modern Cajon. This resulted in increasing international demand for Schlagwerk Percussion.
View All
Close
Related Products
Customers Also Viewed