Schlagwerk 2inOne Snare Cajon - Medium
Schlagwerk 2inOne Snare Cajon - Medium
(No reviews yet)
Write a Review
Schlagwerk
Schlagwerk 2inOne Snare Cajon - Medium
SKU:

CP403

Availability:

Inventory availability is subject to change. Please contact us to confirm that this item is in stock.
Description
Watch Video Demonstration of this Cajon
The Schlagwerk 2inOne Cajon Medium features the 2inOne-Snare-Technique that can be turned off and on in one quick movement. The 18" height makes this model the most comfortable choice for many musicians without having to make a compromise in sound.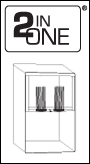 CP 403 2inOne Snare Cajon - Medium
Playing surface: Beechwood
Resonance box: 8 layers of Birch
Dimensions: Approx. 12"W x 18"H x 12"D
Schlagwerk Cajon la Perú with a beechwood playing surface has been setting the standard for quality and sound of the modern Cajon for more than 20 years.
The Schlagwerk 2inOne Cajon models are built with spirals inside the Cajon that press against the playing surface at a precisely defined angle. When the surfaces are played, the spirals vibrate in a controlled manner and produce a modern snare-cajon sound. The spiral technology can be removed from the 2inOne Cajon in one quick movement. The Cajon then produces the traditional Cuban sound.
About Schlagwerk Percussion
Schlagwerk Percussion has a 25 year history of manufacturing the professional German-made musical instruments. Through these years of innovation and experience, the company has laid the foundation for the most successful percussion instrument in recent years with the introduction of the first Schlagwerk Cajon. In the early 90s, the Cajon la Perú set the standard for sound and quality of the modern Cajon. This resulted in increasing international demand for Schlagwerk Percussion.
View All
Close
Related Products
Customers Also Viewed