Schlagwerk 2inOne Dark Oak Cajon
SKU:

CP408

Availability:

Inventory availability is subject to change. Please contact us to confirm that this item is in stock.
Description
Watch Video Demonstration of this Cajon
The Schlagwerk CP 408 2inOne Dark Oak Cajon marks a new milestone in terms of value for money. It has been proven a thousand times that 2inOne technology combined with an extremely elegant Dark Oak playing surface produces a highly attractive package at an unbeatable price.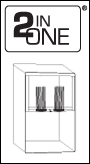 CP 408 Dark Oak
Playing surface:Dark Oak veneer
Resonance box: 8 layers of birch
Dimensions: Approx. 12"W x 20"H x 12"D
Snare Effect: 2inOne-Technique with 40 spirals
The Schlagwerk 2inOne Cajon models are built with spirals inside the Cajon that press against the playing surface at a precisely defined angle. When the surfaces are played, the spirals vibrate in a controlled manner and produce a modern snare-cajon sound. The spiral technology can be removed from the 2inOne Cajon in one quick movement. The Cajon then produces the traditional Cuban sound.
About Schlagwerk Percussion
Schlagwerk Percussion has a 25 year history of manufacturing the professional German-made musical instruments. Through these years of innovation and experience, the company has laid the foundation for the most successful percussion instrument in recent years with the introduction of the first Schlagwerk Cajon. In the early 90s, the Cajon la Perú set the standard for sound and quality of the modern Cajon. This resulted in increasing international demand for Schlagwerk Percussion.
View All
Close
4 Reviews
great sounds out of this cajon.
haven't needed to adjust the snares yet but real easy access, if need be.
this will be put to steady use by a 3rd. yr. berklee student(Boston).
x8 drums customer service is top notch!!

I play in an acoustic duo where we both sing and play guitar. We wanted to add some drums or percussion but couldn't find the right person to join that would fit in, so I decided to take matters into my own hands and buy a cajon that we both could take turns playing on certain songs. I didn't want to spend this much money on a cajon that i wouldn't be playing all the time (plus I'm a guitarist) but I am glad I did. You can't beat the sound of this cajon. I did lots of research and listened to many different brands according to my budget, and I kept coming back to this one. I absolutely love this cajon!

great cajon, great service

I am thrilled with the sound and craftsmanship of this Cajon. I have been researching options for a while and this model is all I had hoped for and more! The X8 shopping experience was top notch and my order arrived when promised. Highly recommended!

This Cajon is awesome. The distinction between the bass and snare sound is impressive. I am very happy with this model.
View All
Close