Description
When you purchase a Rattletree Marimba from X8 Drums, you will also receive a one-on-one live Skype session with Joel Laviolette. Use the time to learn the basics or to pick up some advanced techniques.
Hand-built in Austin, TX! Rattletree marimbas are a result of over 20 years of one man following his passion to the far reaches of Zimbabwe. A professional musician himself, Joel Laviolette, first fell in love with traditional Zimbabwean music in 1994.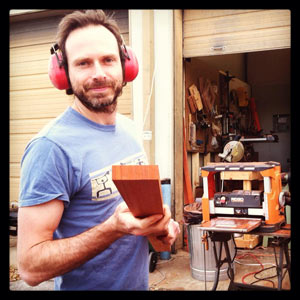 He lived in the country for two years learning the craft from master builders while studying the music. Laviolette maintains relationships with his teachers and friends through regular trips to Zimbabwe. He sources only the finest materials for the marimbas and customizes them to each buyer's needs. Instruments are built in small batches so as to guarantee the utmost care and individualized attention.
Rattletree Marimbas are built in small runs every few months. Purchase stock or get a marimba made-to-order. Six month payment plan available with Bill Me Later at checkout. Several customizations and tunings are possible, ranging from various traditional African tunings to standard western tuning:
Baritone Marimba (Rattletree Tuning)
Includes platform. Keys are typically AAA Cherry. Frames are Red oak. Custom wood options are possible.
All marimbas come with resonator tubes included in the price. Resonator tubes are generally PVC that has been painted black. Aluminum resonator tubes are available as a custom upgrade.
All marimbas come with one set of practice mallets.
Joel also custom makes the common "Zimbabwean Style"Ν marimbas found throughout the US which are usually tuned to "C"Ν and may or may not have an "F#"Ν depending on the needs of the player.
Full sets are available at a substantial discount. Call us for details: 800-771-9645
We generally offer a 25% discount on orders of 3 or more marimbas.
Standard full set is one lead, two sopranos, two tenors, baritone, bass, hosho.
Extra Information