Description
Watch Video Demonstration of these Bongos:
The MEINL FWB190 Free Ride Series Wood Bongos are perfect for the ambitious beginner and for those who are looking for an affordable second set. Its professional features are outstanding in this price range.
The FWB190 bongo set utilizes the famous free ride system to hold the 6 3/4" Macho and the 8" Hembra securely together while allowing for total resonance. This is an important fact because it means your bongos will sound their best. The FWB190 Free Ride bongo comes with hand selected buffalo heads secured with SSR (Safe and Sound) Rim. The hardware is strong steel and black powder coated so you don't have to worry about it falling apart. Rubber caps at the bottom of the tuning lugs prevent scratches and other damage.
Product Details
MEINL Free Ride Suspension System (patented in Germany)
Black powder coated hardware
Hand selected buffalo heads
8 mm strong tuning lugs
2.5 mm rounded SSR-Rims
Size
Material
Rubber Wood (Hevea brasiliensis Muell. -Arg)
Includes
Accessory pouch
L-shaped tuning key
Tune Up Oil
Finish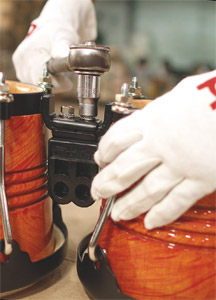 *The Meinl Free Ride System allows the bongo to resonate freely because there are no bolts or holes drilled through the shells.
Extra Information