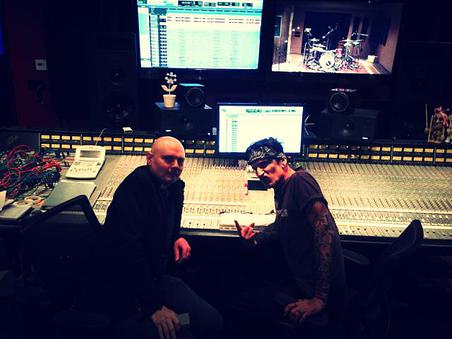 In March, The Smashing Pumpkins surprised fans by announcing the release of two new albums, Monuments To an Elegy and Day For Night, in 2015. The news was the first post on the band's new website Panopticon, created to share the progress of the two albums with fans on a daily basis.
On top of the two-album announcement, The Smashing Pumpkins kept the surprises going by recently announcing that Motley Crue drummer Tommy Lee will play the drums for all nine songs on the Monuments To Elegy album. Again, the news was announced via Panopticon and included a picture of The Smashing Pumpkins' Billy Corgan and Tommy Lee in the studio (photo at right).
Although Motley Crue is planning to retire, thus freeing up Lee's schedule, The Smashing Pumpkins have not announced whether or not Lee will tour with the band.
What do you think of the collaboration between the '90s alt-rock band and the '80s hair metal band drummer? If it helps, The Smashing Pumpkins described the albums' sound as "...'guitars, guitars, guitars, and more guitars;' but more so on the epic side of things than say, grossly metallic."
Photo from www.smashingpumpkinsnexus.com.
Recent Posts
Looking to learn a new rhythm for your Djembe? Have you tried the Fanga beat? Fanga is a Lib …

Many seeking their own hand drum or djembe have experienced the magic of drumming and drum circles. …

Roll into a retro vibe with a groovy Lava Lamp Djembe from X8 Drums. It has a unique d …