Schlagwerk 2inOne "Deluxe" Wenge Cajon
SKU:

CP430

Availability:

Inventory availability is subject to change. Please contact us to confirm that this item is in stock.
Description
Watch Video Demonstration of this Cajon
The Schlagwerk CP 430 2inOne Deluxe Wenge Cajon provides a symbiosis between its noble appearance, perfect bass/snare separation and a filigree snare sound produced by a total of 82 spirals.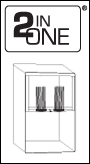 CP 430 "Deluxe" Wenge
Playing surface: Wenge veneer
Resonance box: 7-layered Alder
Dimensions: Approx. 12"W x 20"H x 12"D
Snare Effect: 2inOne-Technique with 84 spirals
The Schlagwerk 2inOne Cajon models are built with spirals inside the Cajon that press against the playing surface at a precisely defined angle. When the surfaces are played, the spirals vibrate in a controlled manner and produce a modern snare-cajon sound. The spiral technology can be removed from the 2inOne Cajon in one quick movement. The Cajon then produces the traditional Cuban sound.
About Schlagwerk Percussion
Schlagwerk Percussion has a 25 year history of manufacturing the professional German-made musical instruments. Through these years of innovation and experience, the company has laid the foundation for the most successful percussion instrument in recent years with the introduction of the first Schlagwerk Cajon. In the early 90s, the Cajon la Perú set the standard for sound and quality of the modern Cajon. This resulted in increasing international demand for Schlagwerk Percussion.
View All
Close
4 Reviews
Definitely better than the normal 2inOne Large, and probably one of the better cajons in the low 300/upper 200 price range. Bass is amazing, snare could be more prominent (I think I just need to adjust where/how I play)

Was processed and shipped very fast. I had the drum 3-4 days after I ordered it.

Also, it sounds awesome.

the product arrived when promised and was well packaged and of very good quality. I would definitely do business with you again.

Schlagwerk 2inOne "Deluxe" Wenge Cajon

Just as the description says, this cajon offers great separation between the bass and snare voices. This instrument is a great choice for those who would be looking for a compact substitute for a drum set.
View All
Close